Dual Coverage for Medicare and Medicaid (AHCCCS)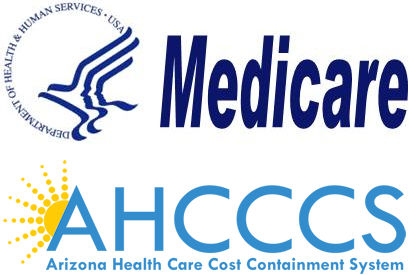 Medicaid in Arizona is administered by the Arizona Health Care Cost Containment System (AHCCCS), pronounced like 'access.' In the past, individuals covered by both Medicare and AHCCCS have had problems navigating the two systems to receive the healthcare they need because the two programs didn't coordinate very well with each other. Things have improved with the introduction of Medicare Dual Special Needs Plans (D-SNPs). They're a special kind of Medicare Advantage Plan where enrollees use the same healthcare provider for both Medicare and AHCCCS. The healthcare provider will then assume the burden of making the proper insurance claims to the two programs while monitoring each individual's overall health maintenance program. With over 60,000 members, Arizona leads the nation in percentage of dual enrollees. D-SNP plans vary by county, so be sure to check with a qualified Medicare consultant if you think you're eligible for both Medicare and Medicaid. When you first become eligible for Medicare, you'll either already be on Medicaid or your changing circumstances will make you newly eligible for Medicaid as well. We'll discuss both possibilities below.
1. You're newly eligible for Medicaid
If you're 65 and below a certain income level, you may be eligible for both Medicare and Medicaid. First, you must be an Arizona resident, a United States citizen or qualified immigrant, have a Social Security number, entitled to Medicare Part A, and have applied for all potential income that may be available to you. Second, at the time of this writing, your monthly income must be below $990 as an individual or $1,335 for you and your spouse. Your Medicare consultant will have the current numbers. Qualified applicants may either enroll in a Medicare Advantage D-SNP plan or have certain Original Medicare costs paid for them. These include Medicare Part A premiums (if not free), Medicare Part B premiums, Medicare coinsurance, and Medicare deductibles.
2. You're already enrolled in Medicaid
If you're already enrolled in Medicaid during your initial enrollment period for Medicare, you simply need to decide whether you want to opt for Original Medicare or a Medicare Advantage D-SNP plan. A qualified Medicare consultant can help you decide which option is best for you. Your Medicare consultant can also help you file the necessary paperwork for AHCCCS and Medicare to get you enrolled in your preferred Medicare plan. It's important to remember that dual enrollees are responsible for purchasing their own Medicare supplement plans if they enroll in Original Medicare. Likewise, Medicare Advantage D-SNP enrollees are responsible for paying the cost for any additional HMO coverage that may be available. A Medicare consultant can help you select a Medicare prescription drug plan that's right for you.
Free Medicare Supplement Plan Comparison Simple, Immediate Results